About Erase Racism
In March 2014 & March 2015, All Together Now joined forces with Football Federation Australia (FFA) and the Professional Footballers Australia (PFA) to fight against racism. The goal was to create greater awareness and attain greater racial equality in Australian sports.
Why This Alliance
Football (or soccer if you prefer!) is widely regarded as Australia's most multicultural sport. For this reason, this joint initiative between All Together Now, the Football Federation of Australia (FFA) and the Professional Footballers Australia (PFA) saw Round 22 of the Hyundai A-League become the 'Erase Racism Round'.
The initiative aimed to highlight the commitment of the Hyundai A-League and the players at all clubs in ensuring that racism has no place in the league, football generally or Australian society.
At each game during the Erase Racism Round, All Together Now's volunteers gave away #ERASERACISM wristbands to supporters. Volunteers from All Together Now and youth players from the clubs will asked in exchange for a small donation to help us continue our racism prevention work.
Our Ambassador, Bruce Djite, supported this campaign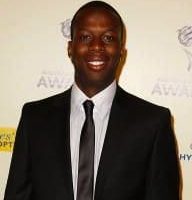 Adelaide United striker Bruce Djite said Erase Racism Round was an important step.
"Racism is an issue that I am extremely passionate about. It is important that we tackle this issue head on and this event is a way of educating people on the immeasurable benefits multiculturalism and diversity bring to Australia. Everyone has a role to play in erasing racism and we can make a positive impact on society by helping to do so."
Our Partners
"The Hyundai A-League is determined to ensure that there is no place for racism in Australian football," Head of the Hyundai A-League, Damien de Bohun said.
"The multicultural nature of Australian football has played a huge role in the success of football and initiatives such as Erase Racism Round are an appropriate platform to support multicultural members of the Football Family."
"Our members are extremely passionate about ensuring football is completely free from racism," PFA General Manager Adam Vivian said. "Erase Racism Round gives players and football supporters across the country the chance to celebrate Australia's cultural diversity."